All sessions start in January 2022.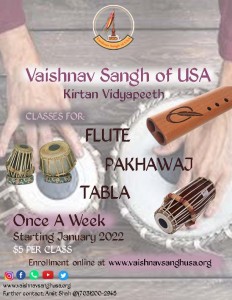 With the blessings of Founder and Inspirer of Vasihnav Sangh of USA and Vaishnav Sangh Acedmy Vaishnavacharya Shri Dwarkeshlalji Mahodayshri, we are extremly excited to announce kirtan musical instrment like Tabla, Pakhawaj and Flute certified courses starting January 2022, by Shri Jay Vohra, famous percussion instrument player accompnies pujya JJ Shri during his vachnamrut in India. Sessions will be held online once a week and fee is $5 per session/$20 per month.
Registeration will open from September 10th, 2021. Session size will be limited, so please register as soon as possible. 
This is an ongoing effort by Pujya JJ Shri to help vaishnav learn all the the different elements of Pushtimarg and by introducing the instrument along with Kirtan sessions, really help vaishnav to be more invoved in his/her seva and offer more love to thakorji. 
Music Vidyapteeth Registration Form
Fill out the form below to register today!