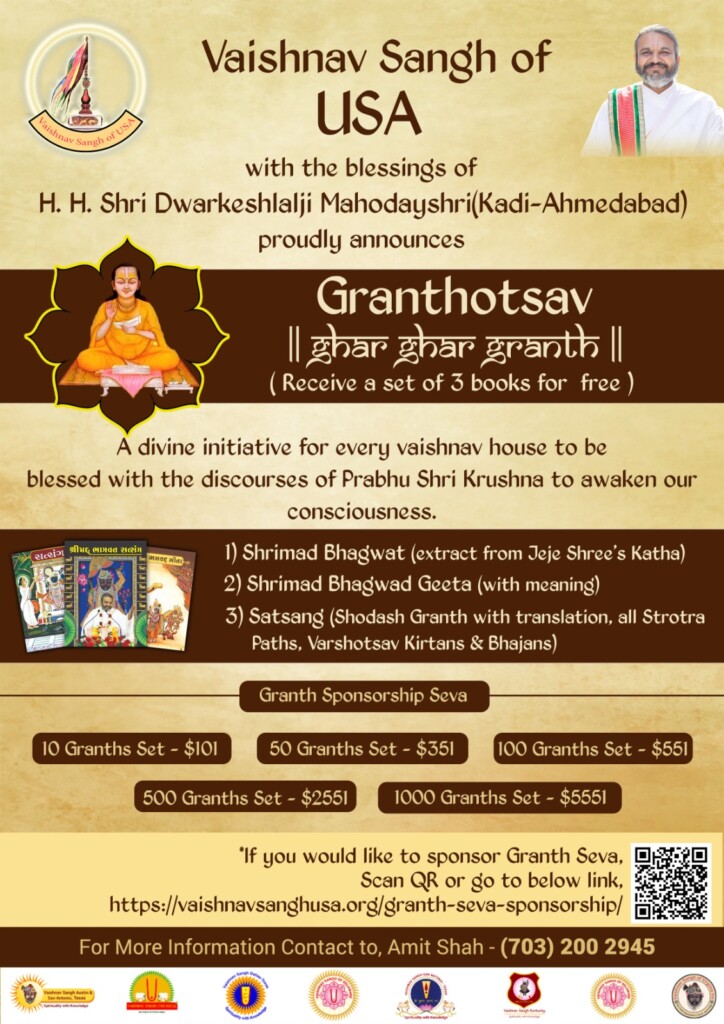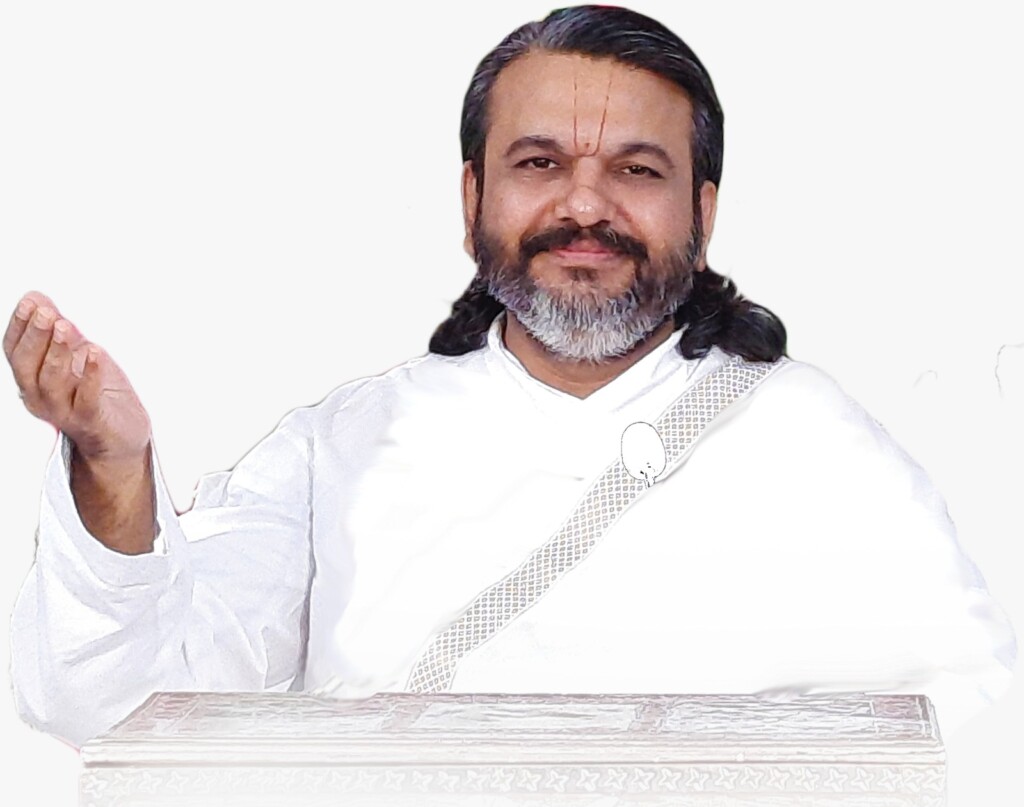 Vaishnavacharya Shree Dwarkeshlalji Mahoday Shree is the 17th Descendant of Jagadguru
Shreemad Vallabhacharya Mahaprabhuji (Who established Pushtimarg 'The Path of Grace'). Belonging to such a high lineage of Vallabhkul, since Childhood app shree mastered various Shastras, Shreemad Bhagwat, Gitaji and Various Pushtimargiya granths. App shree has as well achieved a Masters degree in Sanskrit. Just like Jagadguru Shrimad Vallabhachryaji who constantly did parikrama of Bharat, since a very tender age of 17 jeje shree has been visiting many countries around the Globe yearly to preach about our Religion & Pushtimarg through Vachnamruts (discourses) on various topics. App shree is the first Acharya of Pushtimarg who is viewed and heard by more than hundred thousand people on various Television Channel Platforms. App shree is also a great Internet Sensation on Social media platforms like YouTube & Facebook for his divine Vachnamrut which benefit a large number of Vaishnavs for a better living daily.
Acharya Shree Dwarkeshlalji successfully established Antarashtriya Vaishnav Sangh (International Vaishnav Sangh) with the aim of uniting all the Vaishnavs across the globe on one platform to provide them with sudh Pushtimargiya knowledge.
Acharya Shree Dwarkeshlalji is the only Acharya of the Vaishnav Sampraday who has built Shreenathjis Havelis & established Vaishnav Sanghs in all the 5 continents of our Globe with an aim to maintain the rich heritage of Pushtimarg in each state & Country.
The first ever Haveli aap shree established was on the Continent of Africa, in the Lush Green country of Kenya called 'Shree Vallabhdham Haveli'. In Australia aap shree established 'Shree Nathdwara Haveli' in the city of Melbourne. In the U.S.A – Orlando, FL aap shree has established 'Vaishnav Sangh Academy & Vrajdham Haveli' on 4 acres of land. In The UK, aap shree established -Vrajdham Haveli in Leicester, aap shree has also establishes the first ever sudh pushtimargiya National Haveli in London, Shrinathdham Haveli known as the Nathdwara of UK. In aap shree's Home country-India – Jeje Shree established Bhaktidham Haveli in Bopal- Ahmedabad which is the base of all the spiritual and educational activities. Aap shree has also established Various Havelis in different states of India for the benefit of Vaishnavs.
For the Vaishnavs across the United States of America, aap shree established Vaishnav Sangh of USA. With the aim to unite all the states and it's Vaishnavs, aap shree has created a National Committee under which Online Vaishnav Sangh Academy is being built in Orlando which shall provide numerous online courses for every age category. Activities like Baal Pathshala, Youth Group, Kirtan sessions, Ekadashi satsang, various online sessions of Hinduism & Vaishnavism and much more shall also be provided at the online Vaishnav Sangh Academy.
For the benefit and ease of Vaishnavs across the Globe, aap shree has created the first ever application of its kind, 'Radio Bhakti.' An application that provides a vast and detailed Kirtan collection used in daily and Utsav seva of Thakorji, unlimited vachnamruts on various divine topics, numerous e-books and much more all at the ease of one's mobile phone. Aap Shree also issues a divine magazine bimonthly called, 'Pushti Darshan' which is helpful to all Vaishnavs with the in-depth knowledge of Pushtimarg.
Along with various Religious Activities, aap shree also performs numerous Social activities such as funding the needy children for education, Free Medical Camps, Donations for cataract surgeries, Gau seva, Daily feeding programs for Children and the needy, Various grand donations towards the natural calamities & Pandemic in various countries, Tree planting programs amongst numerous other programs for the benefit of the respective Nation and it's people all around the Globe. During the ongoing Pandemic, aap shree organized various donations like, Anna Daan Abhiyan (Provision of basic Food necessities), Mahaprashad Abhiyan (Provision of mahaprashad to those affected in the pandemic at their doorsteps), provision of medical advice with the help of doctors to those in need free of charge, as well as donation of Various amenities like Oxygen Concentrators.
Aap Shree has dedicated his life in serving Pushtimarg, it's Vaishnavs, our Hindu Culture and religion as well as Humanity just like Jagadguru Shreemad Vallabhacharya Mahaprabhuji did.
Vadhai! Vadhai! Vadhai!
With the Blessing of Founder and Inspirer of Vaishnav Sangh of USA, P.P.108 Shri Dwarkeshlalji Mahodayshri (Kadi-Ahmedabad) are extremely excited and happy to announce land acquisition in Orlando, Florida for online Vaishnav Sangh Academy and Vrajdham Haveli. With JJ Shri vision and Ashirwad, first time in USA, will have online Vaishnav Sangh Academy for Pure Pushtimargiya Knowledge and will be passed upon to young, adult, and elder generation with programs ranging from Pushtimarg Crash sessions, Shrimad Bhagwad Geeta sessions, Sodas Granth sessions, Kirtan, Samagri, Shringar and Bal Pushti, Kishore Pushti, Yog sessions, etc… online via zoom. Online Vaishnav Sangh Academy, will bring all vaishnav together. Also with the education, will have Vrajdham Haveli for all vaishnav to come for Thakorji Darshan throughout the day for all Prahar Darshan from Mangala to Shayan.
The vision JJ has long since envisioned for the future generation to come together and continue to grow Pushtimarg Sanskriti and Mahaprabhuji principle. The property is in the heart of Orlando and near UCF Campus and easily accessible from airport and Disney world. We encourage everyone to be a part of this herculean mission and come forward to fulfill the vision of JJ Shri for all vaishnav.
Please watch the video animation of Vrajdham Haveli and join us.
For more information, please contact Amit Shah (703)200-2945, Dhwani Shah (407) 761-0005, or Arvind Shah  (863) 651-4418.
So now it is our duty and responsibility as a Vaishnav to make sure to fulfill the JJ Shri vision for benefit of Future Vaishnav generation.
Contribute to Vaishnav Sangh of USA to help our community grow.
When we experience a pure inner impulse caused by a higher purpose to help others, to express our unconditional gratefulness, it is called Dakshina. We are being guided by our feelings, and, in this case, the amount we give is irrelevant as long as we gain our own true Self.