JJ Shri Message
સર્વે ર્વૈષ્ણર્વ ને ભગર્વદ સ્મરણ
VADHAI! VADHA! VADHAI! 
આજે સર્વે ર્વૈષ્ણર્વોને જણાર્વતા બહુજ આનંદ થાય છે કે Orlanodo , Florida , USA ની ભૂમમ પાર આપણે Vaishnav Sangh Academy અને Vrajdham Haveli માટેની જગ્યા લીધી છે અને ટૂંક સમયમાં મનમાાણનું કાયાની શરૂઆત થશે. આ સમયે સર્વે ર્વૈષ્ણર્વોને આમા જોડાર્વા માટે મર્વનંતી કરીશ. આ દુમનયાની સર્વાપ્રથમ પુષ્ષ્ટમાગાની એકેડેમી થશે જેમાં Certificate Courses દ્વારા મશક્ષણ અપાશે અને જેથી કરીને આપણા બાળકો અને યુર્વાનોને સાચું પુષ્ષ્ટમાગાનું જ્ઞાન મળી શકે. આ સાથેસ મર્વમર્વધ પ્રવૃમતઓ જેમ કે યોગ, કીતાન અને ભોગ સામગ્રી નું મશક્ષણ પણ અપાશે. આ સંસ્થાની સ્થાપના સમગ્ર usa માં ર્વસતા ર્વૈષ્ણર્વોને ગર્વા લઇ શકાય એર્વી સંસ્થા થશે અને આ બધા માટે આપ સર્વે ર્વૈષ્ણર્વોને જોડાર્વા માટે ફરીથી મર્વનંતી કરું છં. આના માટે ર્વધારે મર્વગતો અને જોડાર્વા માટે અમમત શાહ ને સંપકા કરી શકો. એમનો નો
Phone no (703) 200-2945. 
 JANMASHTAMI & NAND MAHOTSAV 
Shravan Vad (Krishna) Ashtami (that is, Bhadra-pad Krishna Ashtami in Vraj) is celebrated as Shri Krishna Jayanti, also known as Janmashtami. This Maha Mahotsav of Pushtimarg is to celebrate the appearance of Purn Purushottam, Shri Krishna at midnight of this day in Rohini Nakshatra. In Pushtimarg, we celebrate this Maha Mahotsav because Krishna, the Leelatmak and Purn Rasatmak Swaroop; appeared as "Nih-sadhan Falatmak-rup" Thakorji, specifically for the Uddhar (Redemption) of HIS Bhakts through HIS Krupa Daan and to firmly re-establish Dharm. Pushti Bhavana of "Maha Mahotsav" can be understood as follows. The word "Utsav" is derived from the word "Utsaah" i.e., enthusiasm. In Pushtimarg, everything is done is with the Bhav of "Tatsukh" i.e., for the Sukh of our Thakorji. The Utsav, thus, are celebrated in Thakorji's Seva with this Bhav i.e. For "Thakorji's Viniyog". The mundane (worldly matters) and materialistic desires (Kaam) are diverted to take a pure, divine, and truthful path of eternity i.e., Aloukik ANAND. Due to this, all Indriyo (senses) of a Bhakt get diverted in the Seva of Thakorji. This is comprehensively explained by Vallabh in Subodhiniji. Thus true "Utsav" includes the "Virah" for Thakorji. While "Mahotsav" or, "Maha-Utsav" is celebrated to express the experience of Eternal Bliss i.e., ANAND. For example, when Nandraiji blessed with Krishna as his son, at that time, Nand – Yashodaji celebrated this Utsav in the form of Mahotsav".  While either surprisingly or unexpectedly, any auspicious good news is received and due to which the enthusiasm increases multi-fold; then the celebration is called as "Maha Mahotsav". For example, At the incredibly old age, Nandraiji blessed by this son. This incident was surprising as well as auspicious for entire Vraj Mandal and thus the festival was celebrated with extreme enthusiasm. For this reason, in Pushtimarg, Varshottar Utsav Pranalika starts with this day. In the morning, Thakorji performs snan with Panchamrut. This is done with the Bhav that, very first of Thakorji (Krishna) is received by Vasudevji that was of 4-armed Purn Purushottam Swaroop. Since Vasudevji had performed Poojan of this Swaroop, Panch-amrut snan is done. Exceptionally, only on this Mahotsav day, during Mangala; Jhanj is also played to Thakorji. While in Shrungar darshan, Thakorji is offered the Tilak and Janma Patrika is read. After the Shayan Aarti in the evening, kirtans of Janmashtami Badhai are sung up to 11:30 PM. Now at this time, the eight and half shlokas of Krishna Janma from Bhagwat (Dasam Skandh, Adhyay 3) are recited three times and after that, with the Ghanta Naad, Nagada, Maadal, and Jhanj, Pakhavaj, etc.; kirtans are played at the time of Krishna Janma at about 12:00 in midnight. After this, Panchamrutam snan is done to Shaligram ji or Balakrishna Lalji. This Maha Mahotsav continues very next day. Nand Mahotsav is celebrated on the day following Janmashtami. Enthusiasm and Aloukik ANAND overflows as every Bhakt's aloukik desires are filled with the Aavirbhav of Thakorji in their lives. Bal Krishna is swung in a cradle and even till date, Pushtimargiya Vaishnav dress up as Yashoda and swing their Thakorji (Lalan) with the same Bhav. During this Maha Mahotsav, Maha-Bhog in form of 56 Bhog is offered. It comprises of Dudh Ghar, Misri Ghar, Sakhadi, Unsakhadi, fruits and Dry fruits. In Pushtimarg, several exceptional Bhav for "56" is described. One of them include in Nitya Seva-kram, we have Ashtayam seva pranalika. In other words, Thakorji enjoys eight times varieties of Bhog every day. Since Krishna has lifted Govardhan to protect Vraj Bhakts for 7 full days. Therefore, HE missed 8 Bhog per day for 7 days meaning, 56 Bhogs during this Leela. This is one of the reasons why during this Maha-Bhog, 56 Bhog are prepared and offered to Thakorji. After Maha-bhog, Aarti is done and Bal Krishna or Navneet Priyaji resides in a Palna. In Pushti Bhav, Yashodaji is brought near Palna to rock the Palna. Nandbaba is brought to Manikotha and Darshan opens for Vaishnav. The Nand Mahotsav with a great zeal and enthusiasm is celebrated by Pushti Vaishnavs. Nand Mahotsav is celebrated first in Manikotha, then at Dol Tibari and then at Ratan chowk. Milk and curd mixed with Turmeric are sprinkled over all Pushti Vaishnav. In Pushti Seva Pranalika, this Maha Mahotsav has very elaborated Seva details that begins from early morning of Janmashtami and lasts till the next day of Nand Mahotsav.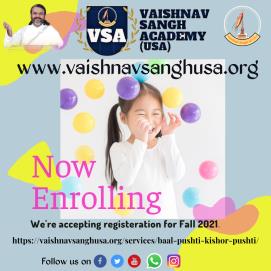 School Registration is open for virtual Baal Pushti (3-7 years), Kishor Pushti (8-12 years) and Baalkishor Vaishnav Sangeet Classes for Year 2021-2022, so hurry and register for new semester. Learn the basics of Pushtimarg at early age with fun and craft activities. So, parents, send your kids for virtual zoom classes. If kid is already enrolled, please confirmation to Ishaben @ (703) 577-7430
See all of our classes (Vidyapeeth) here.
શ્રીજીની સામગ્રી
અડદદયા પાક
સામગ્રી: ૧ કપ અડદનો લોટ, ૧ ચમચો ગુંદર, ૧ ચમચો દૂધ ધ્રાબા માટે, ૧ કપ ઘી, ૫ બદામનો ભૂકો, ૩/૪ કેપ સાકરનો ભૂકો, ૧/૨ ચમચી એલચીનો ભૂકો, ૧/૪ ચમચી જાર્વંત્રીનો ભૂકો, ૧/૪ ચમચી જાયફળનો ભૂકો, બદામ-મપસ્તાની કાતરી સુશોભન માટે.
રીત: ૧. અડદનો લોટને થાળીમાં લેર્વો. ૨. કઢાઈમાં ઘી ગરમ મૂકવું. ૩. ૩ ચમચા ગરમ ગરમ ઘી લોટમાં ખાડો કરી રેડવું, અને ઉપર ૧ ચમચો દૂધ રેડી, ધ્રાબો દેર્વો. ૪. લોટને સારી રીતે મસળીને ચાળણીથી ચાળી લેર્વો. ૫. કણી પડેલા લોટને ઘી મૂકી બદામી રંગનો શેકર્વો. ૬. થોડું ઘી લઈને ગુંદ સાંતળી નાખર્વો. તેને ર્વાટકીથી દબાર્વી ભાંગી નાંખર્વો, લોટમાં ઉમેરર્વો. ૭. લોટ ઠરે ત્યારે સાકરનો બુકો તથા બધા તેજાના નાખર્વા. બદામનો ભૂકો પણ નાંખર્વો. ૮. બધું બરાબર મમશ્રણ કરવું અને શંકુ આકારના લાડુ ર્વળી, ઉપર બદામ-મપસ્તાની કતરી ચોંટાડર્વી (અડદદયો) ૯. લાડુ ના ર્વાળર્વા હોય તો થાળીમાં ઘી લગાડી, ઢાળવું અને ર્વાટકીથી સારી રીતે દબાર્વી, ઉપર બદામ-મપસ્તાની કતરીનુ સુશોબન કરવું (અડદદયા પાક)
UPCOMING SATSANG
Topic: National Satsang 
Date: Wednesday, Aug 4th, 2021 
Time: 9:00 PM EST (USA & Canada) 
Zoom link: https://uso2web.zoom.us/j/86158297680?
Meeting ID: 861 5829 7680 Passcode: 01  
Topic: Seva Shringar Shibir
Date: Sunday, Aug 8th, 2021
Time: 11:30 AM EST (USA & CANADA Time)
Zoom link: https://us02web.zoom.us/j/88991239501?
Meeting ID: 889 9123 9501 Password: 15 
Topic: National Satsang
Date: Wednesday, Aug 18th, 2021
Time: 9:00 PM EST (USA & Canada)
Zoom Link: https://uso2web.zoom.us/j/86359379468?
Meeting ID: 86359379468 Passcode: 02
Topic: Vachnamrut by JJ Shri
Date: Sunday, August 22nd, 2021
Time: 11:30 AM EST (USA & CANADA Time)
Zoom link: https://uso2web.zoom.us/j/85863331481? 
Meeting ID: 858 6333 1481 Password: 30
NATIONAL SATSANG
With the blessings of Vaishnavacharaya Dwarkeshlalji Mahodayshri, Vaishnav Sangh of USA is happy to announce virtual monthly National Satsang on every Agyrias/Ekadashi at 9:00 pm EST, and our team is working hard for the Satsang planning. We invite all vaishnav to join and participate in the Satsang. Satsang will be in the format of encompassing all the Pushtimargiya related topics, such as Agyrias Darshan, Granth Darshan, Utsav or Tirth Darshan and Varta Darshan, including kirtan and dholpad. We will invite vaishnav from each state to take a lead in any of the topics they choose and contact the lead member. We are fortunate for JJ Shri vision and suggestions to make the National Satsang a successful for now and for future. So, this is the time for all vaishnav to come together and join hands and pass on the message to other vaishnav and participate in Satsang. Our next National Satsang will be held on August 4th, at 9 pm EST and everyone should join.