JJ Shri Message
  સર્વે ર્વૈષ્ણર્વોને ભગર્વદ સ્મરણ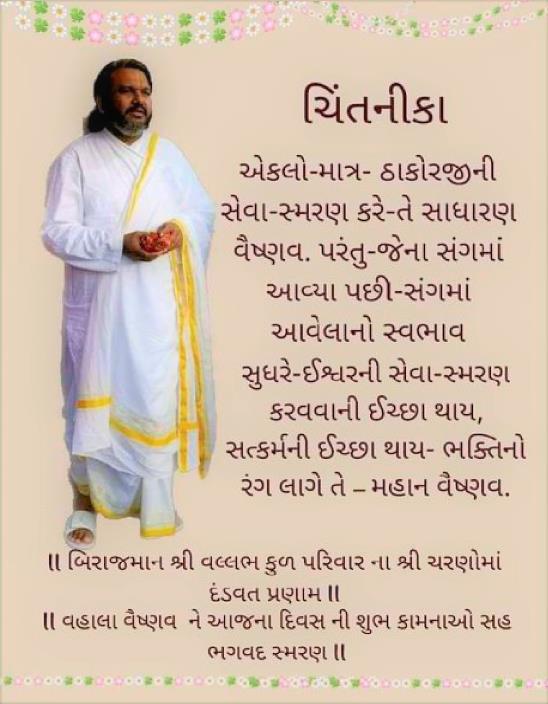 RAM NAVAMI

 
Chaitra Sud Navami (9) is celebrated as an Utsav in Pushti Marg. Ram Navami is one of the four Jayanti vrats included by Shri Mahaprabhuji in the Seva Pranalika of Pushtimarg. In addition to Ekadashi – Agyaras, fasting (upvas) on these four Jayantis is observed by all Pushti Vaishnav. Ram Avatar is known as Maryada Purushottam. Hence the Sthayi Bhav of Ram Avatar is Maryada that is, strictly in accordance with Shastra. However, at times, Ram Avatar executes Pushti. While Krishna Avatar is known as Pushti Purushottam but at times, Krishna Avatar accepts Maryada under Sanchari Bhav. Because Thakorji Vaam Charnarvind is Pushti dominated while Dakshin Charnarvind is Maryada (that is, Mahatmay Gyan) dominated. Hence Nirgun Pushti Bhakti is a combination of Nirgun Prem along with Mahatmay Gyan which is Krishna and Ram. Why the utsav of Maryada Purushottam Shri Ram is so enthusiastically celebrated by VrajBhakt and by Pushti Vaishnav; for whom the core focus is Nand-Nandan Shri Krishna? Harirai Mahaprabhuji has gracefully revealed the bhav of the Gopis in celebrating the Utsav. He states, "It was Shri Ram who granted the boon of Madhurya bhav to the Rishis in DandakAranya during Saraswat Kalp of Dwapar Yug – Krishna Avatar. This is the reason why Shri Ram has the status of Guru for the Vraj Gopis. 
This is the reason why Vraj-jan celebrate Ram Navami / Ram Jayanti Utsav with an enthusiasm equivalent to Janmashtami. Garg Samhita (Gaulok Khand, Adhyay 4) quotes that Shri Krishna mentioning the reasons as to why various bhakt were granted their wish to be reborn as Gopis in Vraj to serve and love HIM.
Garg Samhita describes: In the Treta Yug during the Ram-Avatar once Ram was passing through Dandak-Aranya. HE entered the ashram of Rishis who were eternally meditating on the Swaroop of Gopal and were awaiting their acceptance in HIS aloukik Raas Leela. These Rishis sensed the presence of Thakorji, and they knew that their prayers were about to be answered. When they saw the swaroop of Thakorji with a bow in HIS hand, they thought that though our Gopal has finally come today, for some reason HE has exchanged his flute for the bow. Ram was pleased with their devotion / Bhakti and asked them to ask for their wishes. Rishis asked, "Hey NATH, please grant us a relation with you. The relation that we ask is the one that is unique, the one that YOU have with Sitaji". Ram asked them to wait until the end of Dwapar Yug to have their wish / boon fulfilled. Ram further stated, "I would appear at Yashodaji's place, not as an avatar or as Maryada Purushottam, but as Purn Pushti Purushottam Prabhu HIMSELF. At that time, MY power of acceptance would be infinite. All the Rishis would then be re-born as Gopis and their desire of Seva would be granted." Ram, even though being Maryada Purushottam, there are several instances where HE showered HIS Grace according to the principles of Pushti (Kripa) and thus broke the Maryada: 1. HE placed HIS feet on Ahalya, to free her from the curse due to which she had turned to a stone 2. HE accepted Ber (Bor) that had first been tested by Mata Shabri, due to her unparalleled devotion. Ram at this time, only thought for Sneh-Bhav and Vatsalya-Bhav of Mata Shabri. Because unlike, Maryada; there are no rules and restrictions in Nirgun Sneh. 3. HE allowed writing HIS name "Ram" on the stones that then floated due to HIS Pramey Bal, to form the Setu (bridge) to Lanka 4. HE spent 14 years in the forest due to the vow taken by HIS father (Dasharath). Also, on HIS return, HE had to separate from Sitaji because of some people of Ayodhya. But due to Kripa-Daan, HE eliminated the Dosh of their actions, and bless them a place in the heavens and everybody including Dasharath attained Moksh. Mahaprabhuji's 24th Bethakji at Chitrakut which is located near Kanta-nath Mountain, who is a brother of Girirajji. Girirajji had come to Vallabh in a form of a Brahmin and told that Sitaji and Ram are on top of this mountain and are hungry. Mahaprabhuji told his disciples to prepare bananas with sugar, cardamom and Gulab Jal. Vallabh at that time told that Ram is no different than Krishna. Vallabh then went to the top of the mountain to meet Shri Ram. There He received a Darshan of Sitaji, Ram sitting with Laxman by their side holding an umbrella while Hanumanji stood by with folded hands. Shri Ram holding Mahaprabhuji's hand and made him sit next to HIM on HIS jeweled Sinhasan. Then for some time, Ram and Mahaprabhuji became engrossed in Aloukik Satsang (divine discourse). Vallabh had conducted the discourses on Bhagwatji and Ramayan at this place. Hanumanji daily came here to attend the discourses given by Mahaprabhuji. Hanumanji listened to the stories while standing on one foot. Even Mahaprabhuji's 25th Bethakji at Ayodhya which is situated on the banks of river Saryu. Here Hanumanji had asked Mahaprabhuji, "Being a devotee of Shri Krishna, what has brought you here in the land of Shri Ram?" Vallabh had replied that he was visiting the home of Satyabhama that is, a home of Krishna's in-laws. Vallabh had then told Hanumanji, not to listen to discourse in such a holy land in a nude state. From that day, Hanumanji always wore some clothing. This has been a current tradition now, to put a small cloth in Ram Katha as a symbol of Hanumanji's cloth. Such Aloukik reasons for which Vallabh has included Ram Jayanti Utsav in the seva pranalika of Pushtimarg. 
HORI RASIYA UTSAV FOR THE MONTH OF MARCH

 
March 7th, 2021
Hori Rasiya Gaan-1
Kirtankar Rasesh Shah & Vrund
March 14th, 2021
Hori Rasiya Gaan-2
Kirtankar Krishnadas & Vrund
March 21st, 2021
Hori Rasiya from Vrundavan by Omprakash Shastriji & Vrund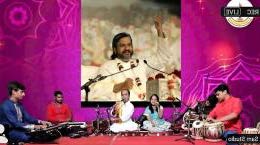 March 27th, 2021
Hori Rasiya Gaan-4
Kirtankar Rasesh Shah & Vrund
શ્રીજીની સામગ્રી

 
ચંદ્રકળા 
સામગ્રી: મેંદો ૧૦૦ ગ્રામ, ચોખાનો ઝીણો લોટ ૫૦ ગ્રામ, ઘી ૩૦૦ ગ્રામ, ખાાંડ ૧૫૦ ગ્રામ, (કેસર કેરી હોય તો ઘ ાંટેલ ાં કેસર ૧ ચમચી) 
રીત: મેંદામાાં ઘીન ાં મોણ કરી જળથી પ રી જેવો લોટ બાાંધવો, બે કલાક ઢાાંકી રાખવો. થાળીમાાં ૫૦ ગ્રામ ઘી લઇ ફીણવ ાં પછી તેમાાં સમાય તેટલો ચોખાનો લોટ પધરાવી ફીણવ ાં. ઘી અને લોટ બરોબર મીક્સ કરી લેવા આને સાટો કહેર્વાય. 
પછી મેંદાનો લોટ લઇ તેના પુરી કરર્વા જેર્વડા લૂઆ બનાર્વર્વા. થાળી ઉપર મોટી પાતળી પૂરી ર્વણર્વી. આખી પૂરી ઉપર તૈયાર કરેલો સાટો લગાર્વર્વો ત્યારબાદ પૂરીનો લંબગોળ ર્વીંટો ર્વાળી દેર્વો. આ રીતે બધી પુરીના ર્વીટાં તૈયાર કરી દેર્વા. ર્વીંટાને સાધારણ દબાર્વી ગોળ કરી પછી ર્વીંટાના ટૂંક કરી, બંને ખુલ્લી બાજુથી હલકે હાથે દબાર્વી, જાડી પૂરી ર્વણર્વી. બધી પૂરી ર્વણાઈ જાય એટલે ઘી બરોબર ગરમ કરી, તાપ ધીમો કરી,તેમાં પૂરી તળર્વી, ચમચાથી ઘી ઉપર રેડતા જવું. પુરીમાં પાંદડી પડર્વી જોઈએ, લાલ થર્વી ના જોઈએ. પાંદડી કડક થાય એટલે પૂરી ફેરર્વર્વી. બંને બાજુ બરોબર તળર્વા દેર્વી, પછી થાળીમાં છૂટી છૂટી પધરાર્વી ઘી નીતારર્વા દેવું. ઉપર છાબડી ઢાંકી દેર્વી. બીજા દદવસે ખાાંડની જલેબી જેવી એકતારી ચાસણી કરી લેવી. થોડી ઠાંડી થાય અને ઘટ્ટ થાય એટલે ચમચાથી ચાંદ્રકળા ઉપર ચારે બાજ લાગે તે રીતે રેડી દેવી. કેસરી ચાંદ્રકળા કરવી હોય તો ચાસણીમાાં જરાક કેસર ઘ ાંટીને પધરાવવ ાં. ચાસણી નીતરી જાય અને ઠાંડી થાય ત્યારે પ્રભુને ધરાર્વર્વી. 
UPCOMING SATSANG

 
Topic: Vraj Bhasha Shibir
Date: Sunday, April 11th, 2021
Time: 11:30 AM EST (USA & CANADA Time)
Zoom link: : https://uso2web.zoom.us/j/84061469958 
Meeting ID: 84061469958 Password: 11
Topic: Ashray Pad in Pushtimarg by JJ Shri
Date: Sunday, April 25th, 2021
Time: 11:30 AM EST (USA & CANADA Time)
Zoom link: : https://uso2web.zoom.us/j/85863331481 
Meeting ID: 858 6333 1481 Password: 30
Registration

 
Registration is open for Different activities and classes offered by Vaishnav Sangh of USA for Vaishnav to join and be actively involved in the growth of Sangh and personal growth towards Thakorji Seva Kram. Currently Vaishnav Sangh of USA is offering under the umbrella of Vaishnav Sangh Academy:
Yog Vidyapeeth
Kirtan Vidyapeeth
Baal Pushti Vidyapeeth (Age 3 to 7 years)
Kishore Pushti Vidyapeeth (Age 8 to 12 years)
Baal Kishore Vaishnav Sangeet Classes (Age 6 to 14)
In the coming month, VSA will offer Adult (19 years and up) Pushtimarg related subject as a 5-year certified courses and Samagri classes, Shringar classes, etc. 
Subscribe to our newsletter for all the upcoming and updated information. Please join and subscribe on social media such as Facebook, YouTube, Instagram, and Twitter. Let us join hand together as a Vaishnav and fly the Pushti Pataka throughout USA and WORLD.