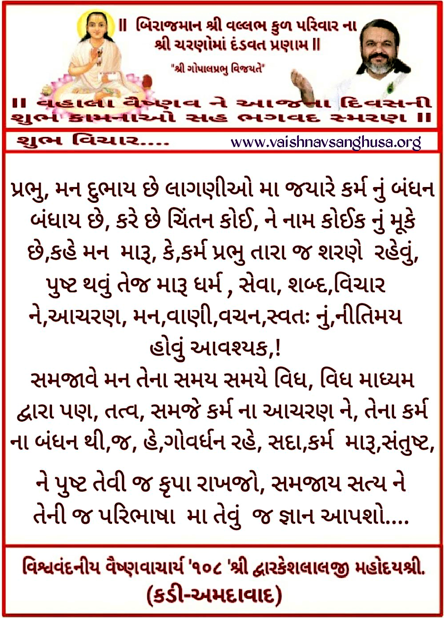 Pushti Prachar Yatra
Pushti Prachar yatra by spiritual Benefactor Vaishnavacharay Shri Dwarkeshlalji Mahodayshri from June 1st to July 14th, was unforgettable by lots and lots of Vaishnav in USA. This was by far the longest ever stay by Pujya JJ Shri and really words will be hard to describe the joy and enthusiasm of vaishnav. Vaishnav travel from all over the nation to have his glimpse in live and to listen to Pujya Dwarkeshlalji divine Vachnamrut and witnessed first Pushtimargiya Academy Bhoomipujan in Orlando, FL and also First time in Delaware Bhagwat Katha Raspan with Shri Dwarkeshlalji Mahodayshri Ashirwad, Shrinathji Swaroop Padhramni on 6th Day of the Katha. Here are some of the pictures from one and half month Pushti Prachar Yatra-2022.
VAISHNAV SANGH ACADEMY BHOOMIPOOJAN, ORLANDO, FL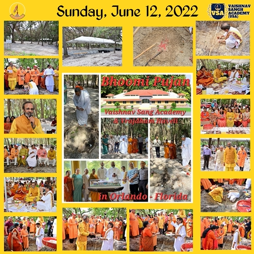 Shrinathji Swaroop Padhramni-Delaware 07/12/2022
 VAISHNAV SANGH OF DELAWARE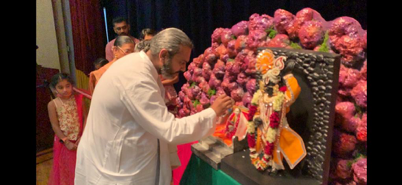 સુકામેવાની બરફી (ત્રિરંગી બરફી)
સામગ્રી: ૧ કપ બદામનો ભૂકો, ૧ કપ કાજુનો ભૂકો, ૧ કપ પીસ્તાનો ભૂકો, ૧ કપ માવો (૧૨૫ ગ્રામ), દોઢ કપ સાકાર, ૧ ચમચી એલચીનો ભૂકો, ૧/૮ ચમચી કેસર, ૨ બદામ, ૪ પિસ્તાની કાતળી.
રીત: બદામ, કાજુ અને પિસ્તાના ભૂકાને જુદી જુદી કઢાઈમાં રાખવા. માવાના ત્રણ સરખા ભાગ કરી, એક એક ભાગ દરેક મેવાની કઢાઈમાં નાખવો. ત્રણેને ધીમે તાપે સહેજ સેકી લેવા. ત્રણેમાં એલચીનો ભૂકો સમભાગે નાખી દેવો. બદામના મિશ્રણમાં કેસર વાટીને ભેળવવું. બરફી જેમાં ઠારવી હોય તેમાં ઘી લગાડી વાસણ તૈયાર રાખવું. સાકરમાં ડૂબકે તેટલું પાણી નાખી, કડક ગોળી પડતી ચાસણી કરવી. ત્રણે કઢાઈમાં સરખે ભાગે મોટા ચમચાથી ચાસણી રેડવી. ત્રણે કઢાઈનાં મિશ્રણને હલાવીને જુદાં જુદાં જરાક ગરમ કરવાં. ઘટ્ટ લાગે ત્યારે ઘી લગાડેલ થાળીમાં અથવા ત્રેયમાં પ્રથમ પિસ્તાનું મિશ્રણ પાથરવું. હાથ પાર ઘી લગાડી તેરને બરાબર થાબડવું. તે જ મુજબ ઉપર કાજૂનું મિશ્રણ, ત્યાર બાદ બદામનું મિશ્રણ ઢાળવું. એ ત્રણ થર કરવા: કેસરી, સફેદ અને લીલો. ઉપર બદામ પિસ્તાની કાતરી નાખી સજાવટ કરવી અને ઠાકોરજીને ધરાવવી.